Torre del Greco
Torre del Greco (View on the city map)
Torre del Greco is a suburb of Naples that is particularly famous for its artists whocreate little works of art out of corals by hand. This trade, which was brought there from Greece, has been a tradition for many years, it is handed down from generation to generation. There are a couple of manufactories that are still open, as well as a coral museum, both are very fascinating and unique for Torre del Greco.
A design imprinted by a conch
Mt Vesuvius Half-Day Trip from Naples - 258
Price: 60,00 €
Duration: 4 hours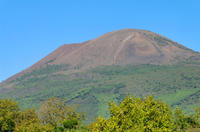 Visit the volcano that destroyed Pompeii on this fascinating afternoon trip to Mt. Vesuvius from Naples. Traveling to the top of the only active volcano in continental Europe, youll have panoramic views of the legendary Bay of Naples from east to west.
---