Paestum, Italy Amalfi Coast
Paestum (View on the city map)
In 600 B.C. the Greeks founded this town as the city "Poseidonia" snuggled in the Gulf of Salerno. Today it is famous for the remainders from this time, 3 temples that are still in good condition, the Hera-temple I (Poseidon-temple), the Hera-temple II (Basilica) and the Ceres-temple.
The name changed to Paestum in 273 B.C. when the Romans invaded and conquered it. The archaeologists haven't been able to dig up all of the ancient Roman city. Yet the 5 km long city walls show how large it once was and that there is still a lot of history waiting to be found.
Salerno and Paestum Full-day Coach Tour from Sorrento - 139
Price: 42,00 €
Duration: 8 hours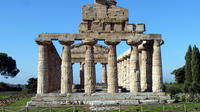 Guided tour by coach to Salerno and Paestum. In Medieval times, Salerno was the world capital of medicine: one of the most famous medical texts of that time was the Regimen Sanistas Salerni written in Latin and translated into almost every European language. In more modern times Salerno is best remembered for the Allied troops landing on its beaches, during the Second World War. To the east of Salerno, after the headlands of Pontecagnano, Battipaglia and Eboli, is Paestum, which is one of the most important archaeological sites in the country. Here you will see some of the best-preserved Greek ruins, architecture and monuments.
Salerno and Paestum Full-day ...
---