The Island of Capri
Island of Capri (View on the city map)
Capri
The highest point of this 10sq.km large island is at Monte Solare, the sun mountain. It is located on the west side of the island. This mountain is responsible for keeping the climate fairly mild, as it blocks the cold winds from sweeping over the island. Because of this climate the vegetation is very lush.
Island of Capri - Marina Grande
The mild temperatures in the spring and fall are usually around 14-16 degrees Celsius. Therefore the best months to visit are from April-June and September-October.
Ferries and speed boats go to and from the island numerous times daily. They all land in the picturesque little port Marina Grande.
Isle of Capri, Italy Amalfi Coast
Foto Show Capri
---
---
You can reach the heart of the island by riding in a cable car. If you don't feel like standing in line and enjoy walking, there is a path with winding stairs that goes there also.
Busses and taxis on the island will take you wherever you want to go on the island. In Capri you can catch busses to Anacapri, Marina Grande and Marina Piccola.
Full-Day Capri Island Cruise from Praiano or Positano - 1
Price: 79,00 €
Duration: 8 hours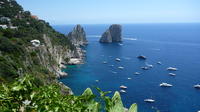 One of the loveliest ways of experiencing the beauty of Capri is out at sea, away from the crowds. Capri is a breathtaking area of natural beauty in the Bay of Naples. Its seductive charms already attracted a great many visitors for thousands of years.
Full-Day Capri Island Cruise ...
---
The Piazzetta di Capri (officially called Piazza Umberto I ) is a charming little plaza in the heart of Capri that is more often than not bustling with busy people It is both interesting and enjoyable to sit in one of the 4 exquisite bars, in the shadow of the clock tower and just watch the people.
Beautiful view on the Faraglioni
If you start walking away from the main plaza you will see a much quieter side of Capri. You can walk along the little paths and a get a better view of things. For example you can walk to the look out point Punta di Tragara, from which you can see the Faraglioni-cliffs, which is a very fascinating.
The rocks carry names like Stella, Scopolo, Monacone or Faraglione di Mezzo. In the Faraglione there is a tunnel that you can ride through in a boat. The names of these rocks originate from the time of seafaring. When ships were passing through the people there would light fires as to show them the way, therefore the word "faro", which means light, is part of one particular rock's name.
It pays off to visit these rock formations, especially at night time when they are lit up by the moonlight and remind you of a picture out of a fairy tale story.
Full-Day Capri Island and Anacapri Tour from Amalfi Coast - 21
Price: 85,00 €
Duration: 9 hours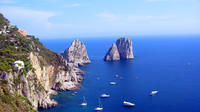 Enjoy a full day guided tour on the island of love. You will see the elegant Capri center, the Faraglioni rocks and much more. Discover Anacapri, with its breathtaking views. A must for a holiday on the Amalfi Coast.
---
Jeranto Bay Walking Tour with a Private Guide - 178
Price: 169,00 €
Duration: 3 hours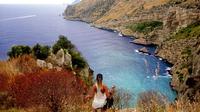 This is an easy, private walking tour to the Marine Protected Area with the spectacular bay, facing the Faraglioni rocks of Capri. Wonderful sea place, with its clear water, ideal for snorkelling. it is a protected area, with high natural characteristics.
Jeranto Bay Walking Tour with ...
---
Capri Day Trip from Positano or Praiano - 33
Price: 70,00 €
Duration: 8 hours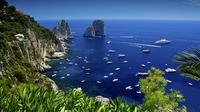 Take in breathtaking landscapes and friendly people that join together to form a unique experience on the beautiful Amalfi Coast. This day trip to Capri is something that your eyes cannot miss.
Capri Day Trip from Positano ...
---
Private Tour: Amalfi Coast and Capri Cruise - 37
Price: 126,67 €
Duration: 6 hours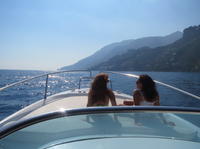 Explore the Amalfi Coast and Capri on a private full-day cruise, the most scenic way to experience these stunning parts of southern Italy. Aboard an elegant speedboat or classic Italian wooden boat (your choice), let your private captain take you past the towns of Amalfi, Positano, Praiano and Nerano. Marvel at the Faraglioni rock formations and the Li Galli private islands and nature reserve, stopping en route to swim. Cross the Bay of Naples to the Island of Capri, where you'll have free time for sightseeing at the Villa San Michele and Gardens of Augustus.
Private Tour: Amalfi Coast ...
---