Praiano - a little fishing village
Praiano (View on the Map)
Praiano - "Torre di Grado"
The charming little fishing village of Praiano is nestled into the great rock cliffs of the bay. In the Middle Ages Praiano was part of the "Antica Repubblica Amalfitana" (the old Republic of Amalfitana).
Praiano Amalfi Coast Italy
f you are in Praiano you might want to visit the elegant little San Luca Evangelista church. The floor is decorated in a unique way and you can also find busts made of silver. The table paintings are also very fascinating; they were painted in the 16th century by Giovan Bernardo Lama and Padovano De Montorio.
If you take a ship out of the harbour Marina di Praia, you will probably see two very beautiful grottos, "La grotte di SUPPRIANO E AFRICANA". These natural caves are famous for the stalactites and the way that the sun falls in there and makes the emerald in the rock of the cave reflect in the water.
Another sight to see when you are visiting this town is the "Torre di Grado", which is a watchtower built centuries ago to defend the coast.
Private Amalfi Coast 'Path of the Gods' Hike from Agerola - 30
Price: 110,00 €
Duration: Flexible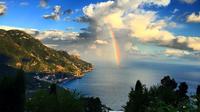 The Path of the Gods hike in the Amalfi Coast is one of the most spectacular path in all Europe with incredible views overlooking the coast line, Capri Island and a little island just off Positano called Li Galli (once owned by Rudolph Nureyev the famous Russian dancer). The path connect all the villages of the Amalfi Coast, from Bomerano located in Agerola above Amalfi all the way to Positano. The hike will be a max of 6 people so very small and private.
Private Amalfi Coast 'Path ...
---
Capri Day Trip from Positano or Praiano - 33
Price: 70,00 €
Duration: 8 hours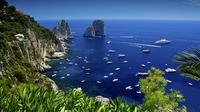 Take in breathtaking landscapes and friendly people that join together to form a unique experience on the beautiful Amalfi Coast. This day trip to Capri is something that your eyes cannot miss.
Capri Day Trip from Positano ...
---