Maiori - an elegant seaside resort
Maiori - Corso Reginna
Maiori view on the map
A group of little white houses around a golden dome, a dignified tower, terraces full of lemons and the sweet smell of citrus fruits,
a modern promenade, pools, elegant hotels … that is Maiori, a town of the old and the new and modern, where art and relaxation are united. To this very day, no one really knows who the true founders of this town were. Its former name was "Reghinna Major", named after the river Reginna. However, it is known that in 700 B.C. the town was ruled by the Etruscans and then conquered by the Romans. Later on it was part of the Repubblica Marinara di Amalfi.
In the past few years many things have been built and reconstructed in Maiori. The river Reginna flows from the mountains, straight through the town and then into the ocean. This river was given a new river bed and all around it flowers were planted.
Half-Day Trip to Herculaneum from Amalfi, Maiori, or Ravello - 2
Price: 232,00 €
Duration: 4 hours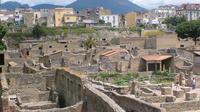 On this private 4-hour tour, venture to the splendors of Herculaneum: an ancient Roman town that was famously destroyed when Mt. Vesuvius erupted in 79 AD. The UNESCO World Heritage Site has since been excavated, and visitors can marvel at its well-preserved ruins. Morning and afternoon departure times are available from several locations in the vicinity, including Maiori, Amalfi, and Ravello, and groups will be transported in private car or minivan.
Half-Day Trip to Herculaneum ...
---
lemon trees
Maiori - Italy Amalfi Coast
The port was also rebuilt. They hope to soon be able to send ships to Amalfi, Positano, Salerno and the island of Capri from this port. The transport by ship between these coastal towns seems to prevent a lot of traffic on the mountain streets.
A recommended thing to do in this town is to get dressed up and take a walk in the evening. You can stop and dine in one of the many restaurants. The fresh fish and wines from the region will make this evening a unique culinary experience.
After the meal it can be especially romantic to sit down in one of the bars, under the lemon trees and have a cocktail.
The bar Pineta in Corso Reginna is a popular place for the younger people to meet and hang out. This is the place to go with friends, on a warm summer day it can be impossible to find a table.
On Fridays Corso Reginna is bustling with the market. You can buy everything from regional specialties (cheese, salami, ham, Limoncello and sweet) to the newest trends in clothes and shoes.
Beach of Maiori
Half-Day Trip to Pompeii from Amalfi, Maiori, or Ravello - 3
Price: 218,00 €
Duration: 4 hours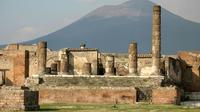 Among the world's most essential archaeological landmarks, and a UNESCO World Heritage Site besides, Pompeii is a must-visit if you're staying in the Campania region. On this half-day, 4-hour tour, you will travel by a private car or minivan from your area accommodation. Groups of various sizes are catered for, and optional guided tours of the landmark can be added to your itinerary.
Half-Day Trip to Pompeii from ...
---